Agnes Day & Night Crème {Cleanser}
$

80.00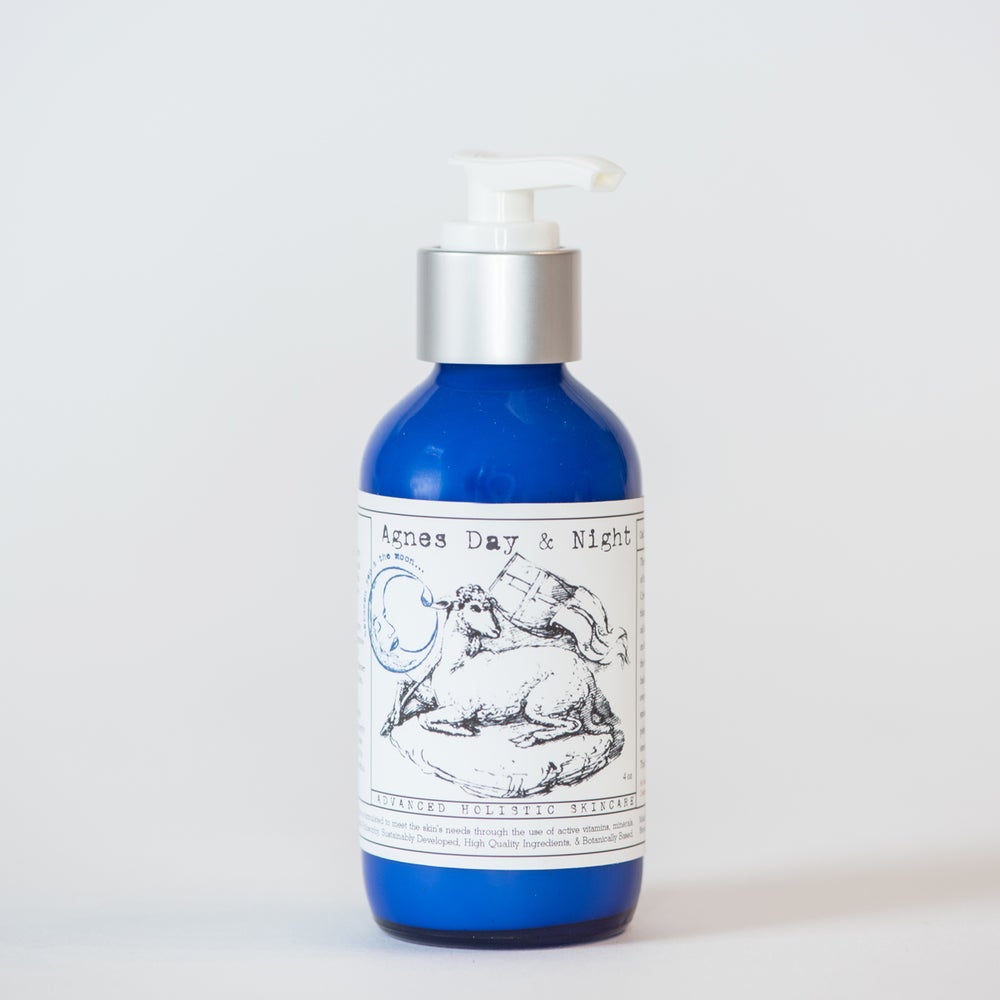 Agnes Day & Night Crème glides on with a silky smoothness and rinses completely, leaving your skin soft, smooth, clean and nourished. With advanced ingredients for the stresses a busy lifestyle, environmentally-challenged and mature skin. See dramatic differences within one month of using this in a simple daily regimen!
Uses:
Day: Mist your face with any hydrosol and apply a small amount of Agnes Day & Night Crème, sweeping upwards in circular motions. Wet an organic cloth and gently remove the crème with lukewarm water.
Night: Apply a dime size scoop of Agnes Day & Night Crème to dry skin—yes, right over your make-up. Work around the face in gentle, circular motions for a few moments. Wet fingertips and massage more thoroughly, getting into the corners of the nose the sides of the ears, up along the scalp and down the neck. Wet an organic cloth and gently remove the crème with lukewarm water.
Anytime: A reviving mask...Apply a thick layer over clean skin and relax for 10-20 minutes. Remove with a damp cloth.
ADVANCED SKINCARE NOTES:
In addition to the powerful cleansing provided by green papaya and pineapple enzymes (as well as the natural lipophilic and hydrophilic properties of a perfect blend of oil & water) the Agnes Day & Night Crème contains an impressive arsenal of anti-oxidants and active compounds. Pomegranate and Rooibos join together to mimic of the enzyme Super Oxide Dismutase (S.O.D.) and attack free radicals—limiting their damaging effects on the skin. Panthenol (B-complex) Retinol (A) Tocopherol (E) and Vitamin C Ester provide a high-energy blend of vitamins. And, of course, the addition of the much beloved MSM and DMAE (youth-promoting supplements) along with a synergistic blend of our favorite active herbal oils (Evening Primrose, Rosehip, Cranberry Seed & Carrot!) will boost your skin's natural radiance, smooth & even skin tone, refine pores, and promote a lovely countenance for you to go on your way—night or day! Over 90% certified organic ingredients.